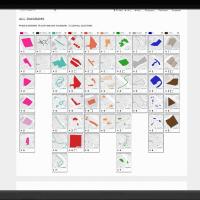 In our second Geodesign Studio (GEODZ 852 - Urban/District Challenges)  we focus on the complexity of urban and district-scale landscape change issues.  The studio format provides the closest approximation to a professional setting where multiple consultants and stakeholders collaborate on the process.  Every urban area is part of a larger context, its region.  The approach to understanding and addressing challenges in a place will take the student from the regional scale down to the complexity of landscape change issues embedded in urban and urbanizing areas.  The process is comprehensive and considers the myriad of factors that influence place, such as the environmental, economic, and cultural systems.
The Atlanta Braves are currently building a new baseball stadium just north of Atlanta near the town of Smyrna, Georgia. The stadium is expected to have a tremendous impact on the urban fabric of this part of the region, but it is unclear of exactly what those impacts will be.
The class is analyzing the impacts that the new stadium may have on Smyrna, Cobb County, and surrounding areas, and are developing design and planning scenarios to provide solutions to complex problems. For the first part of the class, students are working with Dr. Hrishikesh Ballal and using a digital tool called Geodesign Hub for these tasks. Geodesign Hub is software for collaborative geodesign. It enables teams to create and share concepts, to design collaboratively, and to receive change-assessments instantly – all in a highly synergetic, efficient and easy to use environment. It is especially effective in the early stages of a complex study or project when many alternatives must be rapidly created & considered.
The students have used Geodesign Hub to develop evaluation models, system impact models and a cross system models. These models are then being use to provide the framework for developing and evaluating alternate futures.