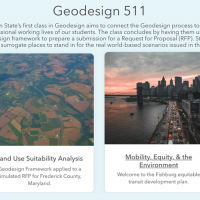 Geodesign History, Theory, Principles
GEODZ 511 is Penn State's first class in the Geodesign sequence. It aims to connect the Geodesign process to the professional working lives of our students. This course consists of lectures, readings in course literature, small group discussion forums, and an individual topic investigation.
The class concludes by having students use the Geodesign framework to prepare a submission for a Request for Proposal (RFP). Students select surrogate places to stand in for the real world-based scenarios issued in the RFP.
Students who successfully complete the course are able to associate different types of design and planning issues and challenges to the appropriate Geodesign workflow, and identify possible models to use to promote creative change for a place.
Read a short story about how students found that this first course highlights a practical, immediately applicable process for organized, creative problem-solving and dynamic collaboration.
View examples of GEODZ 511 students' final projects here (scroll to see)