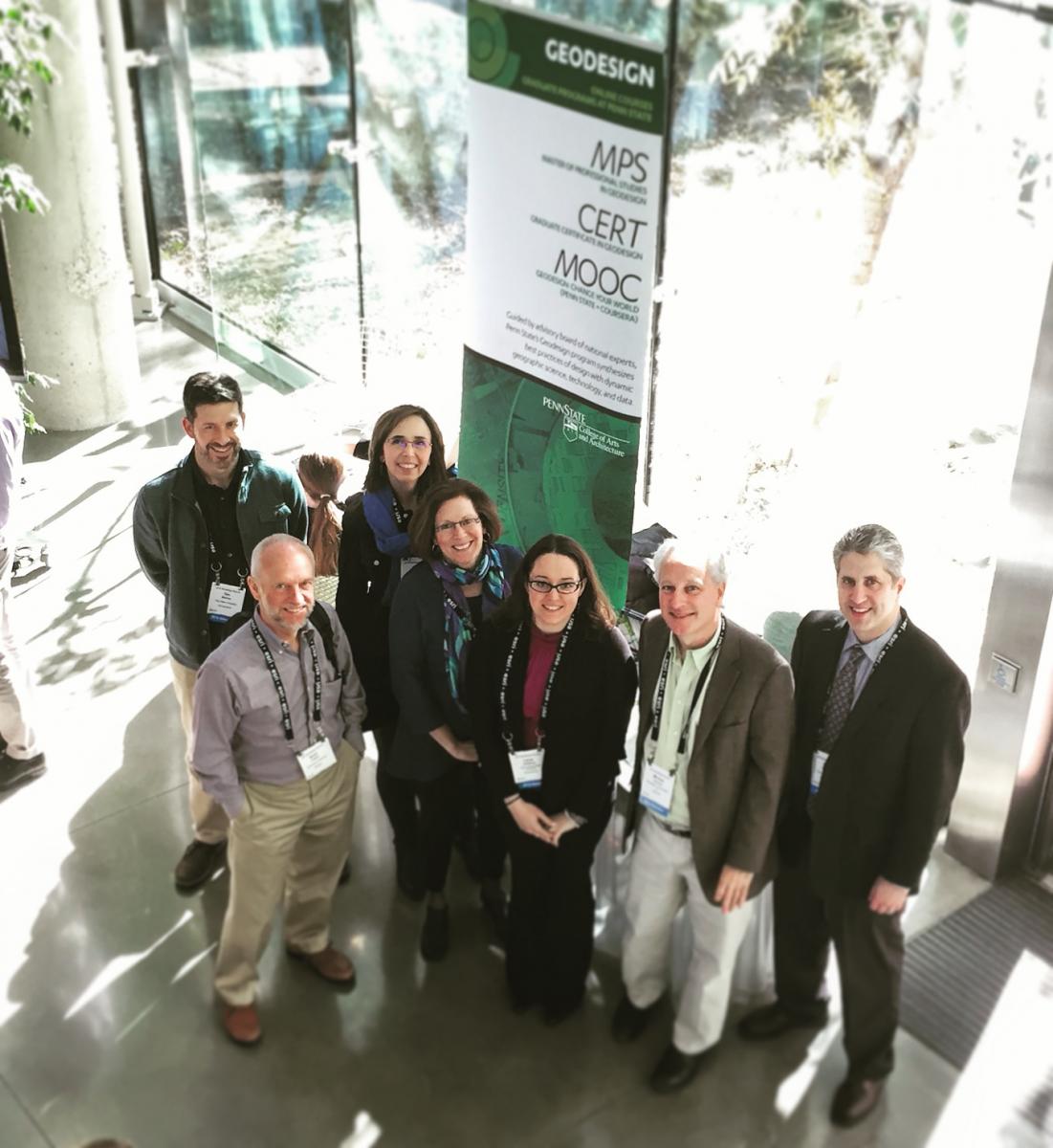 The Penn State Geodesign Program is housed in the College of Arts and Architecture's, Stuckeman School of Architecture and Landscape Architecture.  We are part of the Department of Landscape Architecture and currently have seven dedicated faculty members as well as an Advisory Board with a wide range of backgrounds and experiences.
FACULTY
Ms. Kelleann Foster - Lead Faculty, Director of the Stuckeman School.
Mr. David Goldberg - Senior Instructor, Technology Operations Manager - Stuckeman School
Dr. Michael Flaxman - Founder, Geodesigh Tech Inc.
Dr. Brian Lee - Associate Professor, U of Kentucky.
GEODESIGN ADVISORY BOARD
Amy Anderson, PlaceWays, CO
Keith Bailey: Dean of Online Learning, West Virginia University
Hrishi Ballal: Geodesign Hub, UK
Eric Bernard: Landscape Architecture Dept. Chair, Texas Tech University
Sven Bilen: School of Engineering Design, Technology and Professional Programs, Penn State
David Blau: EDAW/ AECOM (Retired), Keep Tahoe Blue, CA
Robert Cheetham: Azavea, PA

Stephen Ervin: Assistant Dean for Information Technology, Harvard University

Michael Flaxman: Geodesign Technologies, CA  [& PSU Faculty]
Chuck Hixon: EDGE-Global Technology Solutions, NY
Kristen Kurland: Professor of Architecture, Information Systems, and Public Policy, Carnegie Mellon University
Brian Lee: University of Kentucky [& PSU Faculty]
Doug Miller: Program Manager MGIS, Penn State
Brooks Patrick: Esri, CA
Anthony Robinson: Lead Faculty, GIS/MGIS program, Penn State
Jim Sipes: Sand County Studios, GA  [& PSU Faculty]
Carl Steinitz: Professor Emeritus, Harvard University; Honorary Professor, Centre for Advanced Spatial Analysis, University College London
Ann Taylor: Director of Dutton Institute, Penn State
Eric Wittner: Esri, CA
Arts & Architecture eLearning Institute
Gary Chinn: Director
Rebecca Joiner: Instructional Designer
Penn State Department of Landscape Architecture
Kelleann Foster: Director of Stuckeman School
David Goldberg: Stuckeman IT manager, Geodesign Faculty
Larry Gorenflo: ERS Chair in Design

Dan Meehan: Geodesign Program Manager
Tim Murtha: Director, Hamer Center for Community Design
Danielle Oprean: SCDC Post-Doctoral Fellow
Brian Orland: Professor Emeritus; Rado Family Foundation Professor in Geodesign, University of Georgia
Eliza Pennypacker: Landscape Architecture Department Head
Caitlin Smith: Geodesign Faculty