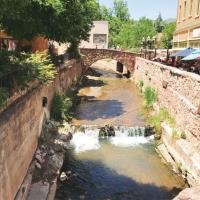 "Manitou Springs is a quaint mountain community nestled at the base of Pikes Peak in Colorado. The city has its roots in the gold rush and railroad expansion of the mid-1800s. Historic buildings and stone bridges, walls, and staircases abound along the narrow, winding roads—many of which crisscross picturesque Fountain Creek, which runs the length of the city."
Shannon McElvaney, the first graduate of the PSU Masters in Geodesing program, writes about how his capstone project helped turn arond a planning process in his own back yard. 
Read more about the process at this link.