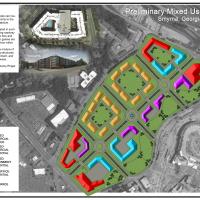 Geodesign Studio II: Urban/District-scale Challenges
This course continues the student experience of learning in a problems-based, collaborative studio environment.  The course builds upon the first studio experience.  In GEODZ 852 students will be asked to apply the geodesign framework approach to real-world land design and planning challenges at a smaller, more detailed scale.  The course focuses on the complexity of urban and district-scale landscape change issues.  The studio format provides the closest approximation to a professional setting where multiple consultants and stakeholders collaborate on the process. 
This course has worked on different projects in each semester it has been offered.  Below is more information on each of those courses:
FALL 2016 - Mixed Use Development Around a New MLB Stadium in Atlanta
FALL 2017 - Using Geodesign to Plan for Olympics
FALL 2018 - Information Coming Soon!
Click here to read the syllubus for this course