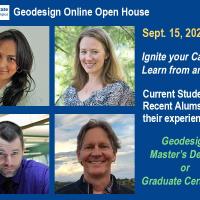 On Sept. 15th our four panelists of Penn State Geodesign alums and a current students shared their experiences and insights regarding Geodesign and online learning. The event lasted an hour; intros where the first part and they started answering questions at about 14 minutes in.  The speakers talked about how the program is benefiting them professionally, and provided thoughtful, direct responses to questions.  We hope you'll check it out!
Please note the recording is not Close-captioned.  If you need that, please let us know.
This webinar is now freely available on-demand, please click here to watch!
We have curated some highlights of the webinar.  Click below to check out a quick summary of the event.