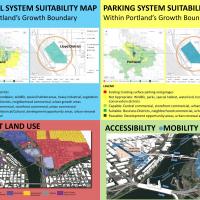 "When a city considers putting together a bid to someday host a future Olympic Games, dozens of entities and stakeholders get involved. When that city is Portland, Oregon, that means asking for input from Penn State geodesign students taking an online studio course — GEODZ 852 Geodesign Studio II: Urban/District-scale Challenges."
Penn State Masters Geodesign students were part of an online studio course in the Fall of 2017.  In this course, students looked at long term growth in Portland, OR.  Specifically, the students addressed what actions the city could take to put itself in a good place to make an Olympic bid in 20-30 years.  An integral part of the process was also how the new facilities and venues can be deisgned so that they are valuable to the city far beyond any Olmpic event.  
Read more about our online geodesign studio by clicking HERE.