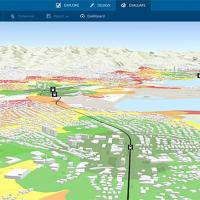 In the upcoming 2019 ESRI Geodesign Summit, attendees will get a look at what is next for Geodesign.  Caitlin Smith, part of the ESRI Local Government Team and Instructor for Penn State Geodesign, recently wrote about "Where Geodesign Goes Next."
"Ten years ago, Esri president Jack Dangermond made the case for geodesign in an ArcNews article entitled "GIS: Designing Our Future." Dangermond took a retrospective look at the formative thinkers, seminal works, and concepts that gave birth to what we know today as geodesign: a collaborative design process systematically informed by geographic data and analysis to balance our natural and built environments."
Read the full article on the Esri ArcWatch website.

(Image courtesy of Esri: ArcWatch)